Baseline Awards: The Era of Kevin Durant has arrived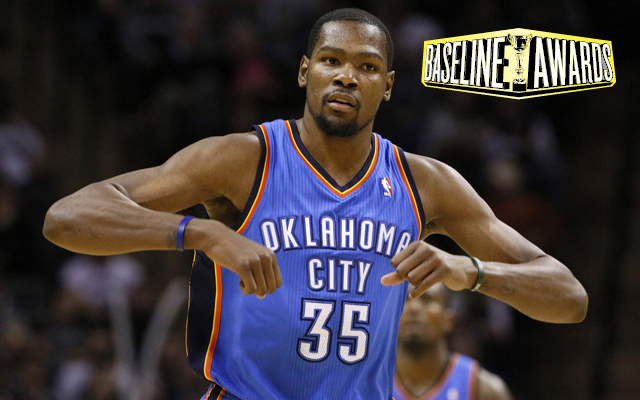 Kevin Durant
was scrawny.
That wasn't just a criticism from those that felt that Durant's rival for the No. 1 pick, Greg Oden, should be the top selection. It wasn't just a hyper-over-reaction from the people that typically enjoy tearing down hype. The kid really was skin-and-bones in 2007. You watched him in college and you couldn't believe this wraith-like shape (when compared to the other players on court) could be so long. Durant's wingspan and height only made how thin he was stand out. It was like a stick-figure.
A stick figure who you knew could drop 40 at any point. I saw Durant drop 34 for the Longhorns, the game after putting 37 on Colorado. He shot 10 of 14 that night, with 13 rebounds and three assists. It was awe-inspiring. It wasn't the points or even the efficiency. It was how effortless it looked. This scrawny kid just rising up and over time after time, an unstoppable force of nature that just blew through your defense like the wind. I said after that game Durant would be a Hall of Famer. Now, that was an idiotic thing to say at the time, no matter how well he played. But that was how much of an impact he made.
And the fact that you can look back and say, "Oh, that turned out right," is really the amazing part.
He's this season's MVP
Kevin Durant
is the
MVP
this season. It's not over, of course. But realistically, what would
LeBron James
have to do to catch him? Average a triple-double on the season? The four-time MVP is averaging 26 points on 58 percent shooting, with 6.9 rebounds and 6.5 assists, 1.3 steals with a 28.7 PER (Player Efficiency Rating).
And the race isn't close at this point
. Because Durant is averaging 31.3 points, 7.8 rebounds and 5.2 assists on 51 percent from the field, 41 percent from three, and 88 percent from the line.
Read it more at,
cbssports
SPONSORED LINKS