Liverpool's midfielder Suso Fernandez apologized after he was fined £10,000 by the Football Association. He called his teammate Jose Enrique "gay" on micro-blogging site Twitter.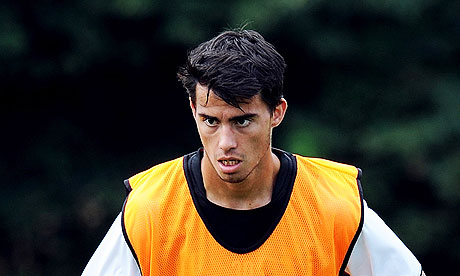 Last month, he posted a photo of Enrique and he tweeted :"What f*** is he doing? This guy is gay ... he does everything except play football."
He deleted the said tweet and uploaded the photo with a different comment,"I dunno what to say ..."
FA issued Fernandez with the fine and a warning over his future conduct.
On his Twitter page, he tweeted: "I'm very sorry if anyone has been offended by my comments about the photo of my team-mate Jose Enrique.
"It was only a joke between the two of us. I realise that my words were unfortunate and it was not my intention to offend anyone. I apologise again if anyone was offended."
Meanwhile, Enrique also posted on the said social networking site: "Is amazing how FA can fine my friend Suso Fernandez for a banter thing. Was just a joke!" he wrote.
In a statement by the officials of FA said: "Following an independent regulatory commission hearing on Monday, Liverpool's Jesús Fernández Sáez (Suso) has been fined £10,000 and warned as to his future conduct for a comment posted on Twitter. The charge, which the player admitted and requested a paper hearing, was that he acted in a way which was improper and/or brought the game into disrepute in that the comment was posted on his Twitter account and included a reference to a person's sexual orientation and/or disability."
SPONSORED LINKS