Last Night I wonder why my PI 100 professor oriented us that there are reasons why Rizal is not really qualified to become our National Hero. Until now I am trying to figure out his point of view regarding this. Rizal had no superpowers but he did great things for our country. He was once rumored that he was gay but he was brave enough to protect us. He is considered as a straight superhero.
Rizal fights crime and kicks ass.
During my Art Stud. class we were discussing about How Art made human more than human. It was all about the attempt to show the human form but it ends up with exaggeration. It was mentioned that superheroes concept is the perfection of the human form, the inner character is not included. No one is perfect but in reality there are people that we can consider as real hero. Someone who can
kick ass
.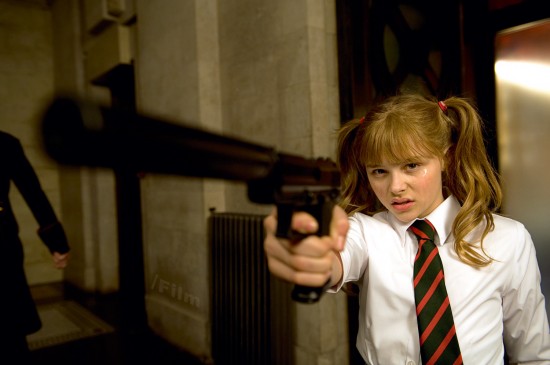 Kick Ass
tells the story of average teenager
Dave Lizewski (Aaron Johnson)
, a comic book fanboy who decides to take his obsession as inspiration to become a real life superhero. I have a friend who is also a comic book fanboy , I wonder if he is also dreaming of becoming a superhero. Well there is nothing wrong as long as the intention is to help others.
As any good superhero would , he chooses a new name -
Kick Ass
- assembles a suit and mask to wear and gets to work fighting crime. Theres only one problem standing in his way: Kick -Ass has absolutely no superpowers.
In U.P. Diliman campus, Zorro has no superpowers but he will stand out for your right. He is just around to protect the students from the bad elements.
Kick Ass
' life is forever changed as he inspires a subculture of copycats, meets up with a pair of crazed vigilantes - including an 11 year old sword wielding dynamo,
Hit Girl ( Chloe Moretz )
and her father
Big Daddy ( Nicolas Cage
) - and forges a friendship with another fledgling superhero,
Red Mist
(
Christopher Mintz- Plasse
).
The setting of this story is ideal for typical outgoing teenagers. If you love adventures you will definitely love the story.
If you have gender problems and you can`t handle it, you can relate on this and you`ll get to know some advices when you watch this movie.
There is also a touch of parent - child relationship. It promotes love and giving importance to the person who made your life better. Most of all it emphasizes friendship.
SPONSORED LINKS